In 2012, Bermudian John HARRIES had an idea: Create a reliable and comfortable travel boat at a fair price.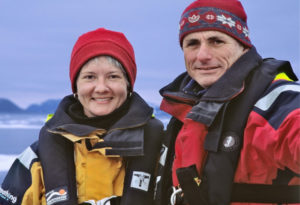 John HARRIES and his wife, Phyllis NICKEL.
After years of thinking about it and editing his project for his website Attainable Adventure Cruising, the 100,000 mile skipper was contacted by two French compatriots, Pascal BINET and Maxime GERARDIN, both engineers, who are keen to bring the ADVENTURE 40′ to life in France.
Pascal & Maxime audited and selected from 28 naval architecture offices throughout France, in order to select the most suitable to make this project feasible.
After numerous trips throughout France to meet the architects, Pascal BINET & Maxime GERARDIN decided to trust our office for the realization of this 40 feet monohull.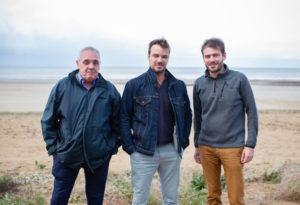 Pascal BINET (left), Vincent LEBAILLY (centre) & Maxime GERARDIN (right)
"Vincent understood that the boat is actually futuristic, in that it will bring sea travel to more people" – John HARRIES, 26 November 2021, "Designer chosen for the Adventure 40", Attainable Adventure Cruising blog
The ADVENTURE 40 is a fixed keel composite cruiser with simple and reliable features designed by sailors for sailors. Designed for a couple with occasional guests, this unit is built for a high level of safety on all seas. John HARRIES has asked professional sailors for many ideas and this boat will bring together many advantages to the deep sea trip.
The ADVENTURE 40′ will be a seaworthy unit with a minimum of fatigue build-up. It will be a boat capable of covering 140 to 160 nautical miles in 24 hours, thanks to an optimised hull. The vessel will be easy to manoeuvre, with a slim hull and a draught of 2 metres or less. In other words, the ADVENTURE 40′ will be a safe, robust and reliable monohull.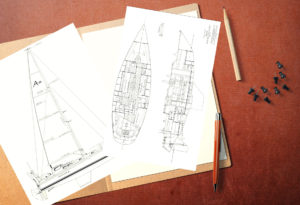 Starting sketches by John HARRIES.
Desire and commitment were the key words in choosing the architect who will be responsible for bringing this boat to life.
"I have already seen direct evidence that Vincent fully understands the philosophy of the Adventure 40′ […] Vincent's track record of designing boats for major French builders, including Garcia, will give credibility to the project" – John HARRIES, 26 November 2021, "Designer chosen for the Adventure 40", Attainable Adventure Cruising blog
This is a great satisfaction for the whole team at Vincent Lebailly Yacht Design and a reward for our investment in this project.
The design will be launched in the winter of 2021 and the first images should be available in April 2022.
Share the article